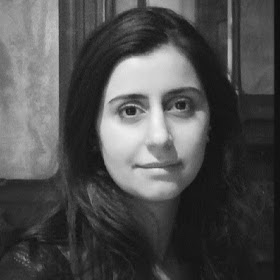 Lilac Atassi is a music technologist, composer, improviser, pianist, and educator. Lilac is currently a Ph.D. student in computer music at the University of California, San Diego.
She has  M.F.A degree in composition from the California Institute of the Arts, where she studied composition with Dr. Robert Wannamaker, Dr. Nicholas Deyoe, Michael Pisaro, Ulrich Krieger, Daniel Corral and Wolfgang von Schweinitz. Lilac has skills and experience in diverse musical areas, ranging across avant-garde and experimental music, multiple world music traditions, solo and ensemble performance, free improvisation, interface design, multi-media composition and performance, instrumentation and orchestration. Lilac has written music for large and small ensembles, solo instruments, live electronics, installations, electroacoustic and algorithmic music. Her compositional work is driven by research and experimentation about sound, the perception of sound, sonic environments, extended performance techniques, noise, and algorithmic composition. As an improviser Lilac performs on piano, and electronically using supercollider.
Lilac worked as teacher assistant at the California Institute of the Arts where she designed and delivered two original 2-week credit bearing courses for CalArts students, short term History & Literature classes, and tutored tonal and non-tonal theory, keyboard theory skills and piano private lessons as an independent study course.
She also holds a B.F.A in piano performance from the California Institute of the Arts. Lilac studied piano with Kevin Fitz-Gerald, Dr. Ming Tsu and Dr. Jackie Petitto among other teachers. Lilac has studied in music festivals internationally, including Academie de Fourviere in Lyon, France, mentoring under Alain Jacquon for two summers and the Harpa Music Academy at Reykjavik, Iceland. Lilac has performed in Master classes of Jerome Lowenthal, Mario Feininger, Dr. Philip Young, Dr. Steven Niles and Steven Vanhauwaert. She performed in Major concert halls such as Kaldon hall at the Harpa Concert Hall, Salle de Debussy at Le Conservatoire de Lyon, Palais Saint Jean in Lyon, Harbeson Hall at Pasadena City College, Roy O. Disney Hall, the Wild Beast Hall at Calarts and other halls in the USA.
She was a winner of  the Pasadena City College Scholarship Competition in 2008, and twice at the Old Town Music Competition 2009. In addition to performing solo recitals, Ms. Atassi balances her busy schedule with an active teaching studio, offering instruction to students of all ages and levels. Lilac also holds a B.A. French Literature, her primary extra-musical interest, from the University of Aleppo, Syria.